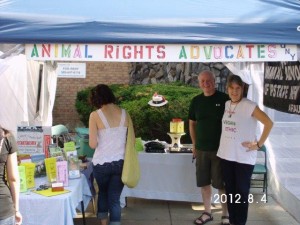 ARAUNY set up to table at the Park Ave Festival this weekend (100 Park Ave). This was our 2nd year at this very popular, well-attended festival. Friday evening, we set up our tent, then returned early Saturday morning, set up our tables, inventory, and finishing touches. Our booth looked great!
It was HOT ~95 degrees, and incredibly humid!  (If you're in the area, you know what I mean!) Sadly, some people did bring their dogs, despite all the advertising not to. We had some great conversations with customers … quite a mixed crowd, all ages, all walks of life. The majority seemed appreciative of our animal advocacy. As it was so unbearably hot/humid, many folks walked by all the booths rather quickly presumably back to their a/c cars (empty-handed, thus didn't buy much from others either). Other vendors said the same; our sales were fair, considering.
But then … we watched the weather reports very closely and concluded that the big storm was indeed coming by early Sunday afternoon. Rather than risk the financial loss of our inventory in the storm (plus my own tent, loaned to arauny), the chaos if folks had to scramble to escape the high winds, hail, thunder/lightning, rain they predicted – right at midday during the festival of 1,000s …. we chose to take it all down Saturday evening. That was the right move, for sure!
By 2:00pm, Sunday's storm hit Rochester in full-force!  You can see from pictures and video in local TV reports the damage, etc … but not ARAUNY. We were proactive and stayed safe. It just wasn't meant to be this year, due to the weather. Maybe next time …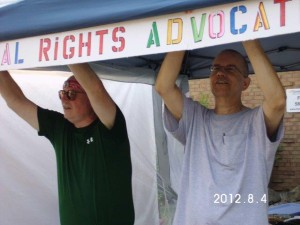 All in all though, it was fun while it lasted (Saturday).  Many thanks to those who **did table for ARAUNY, and to those who were *scheduled to but could not because we closed down to be safe on Sunday:
**  Walter Bowen (appeared Sat.a.m. and asked those 3-little-words we love to hear *may I help?*, and later worked his own shift, plus helped Greg tear down the tent Sat.p.m.)
**  Emily Smith
**  Christie Nesbit
**  Denise Speicher
**  Greg Baum
**  Lois Baum
*   John Carbonaro
*   Steve Carbonaro
*   Peg Haust
*   Craig Haust
*   Felicity Brach
*   Gerry Brach
*   Johanna Connelly
Thanks to all for your support of ARAUNY,
~Lois Baum